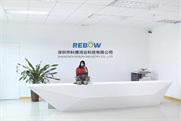 Shenzhen Rebow was founded in 2014 which is a company dedicated to creating high-end neon art in the world.
Adhering to the mission of "Neon art lights up our future", Rebow has sold 100,000 neon art signs to the world which are widely used in brand logo,store signs, wedding scenes, home decoration, shopping mall, hotel decoration , events and so on.
Every neon art is designed by true heart, meticulous craftsmanship, constantly improve, and always keep exploiting, make every neon art perfect.
Rebow has a 2,000 square meters workshop, 51 master craftsmen, 13 designers and 4 marketing centers. We have more than 110 large distributors in 27 countries around the world. Our company has cooperated with Jordan, LV, Budweiser for more than 3 years.
We have established modern warehouse system under the control of ERP system. All raw materials are certified by CCC, CE, RoHS. The acrylic is imported from Japan Mitsubishi which is cast into shape. Led neon flex and power supply needs 24-hour aging test. All of raw materials must pass the quality inspection before entering the warehouse.
Driven by the spirit of Craftsman, we produce every led neon sign as an artwork. Each sign has undergone 68 production processes. From engraving to precise measurement, precise corner cutting, precise welding line, precise pasting, etc., finally a wonderful neon art is born .During the production, professional quality inspectors inspect the production line to ensure that each production process is strictly controlled and tested, and make sure that each art work is carefully crafted by hand.
Every neon artwork will go through 15 quality inspection steps and 24 hours aging test.Once defective products are found, we must rework or redo immediately.
After years of research and development and practice, Rebow uses 10mm thick honeycomb paperboard and custom-made U-shaped corner protector. Besides, we use dust-proof membrane, bubble cotton and pearl cotton to cover the neon sign, which solves the fragile acrylic board problem in the industry.
Rebow has established an after-sales service department oriented by customer evaluation,and a corresponding after-sales service system.Any quality problem within two-year warranty, we will replace a new one for free.
Rebow will go forward in the future. We will adhere to the customer first philosophy and create more values for more customers. Rebow is looking forward to cooperating with you in the near future.